"Armenia's Deputy Defense Minister Artur Aghabekyan tendered his resignation," country's MOD head Serge Sargsyan told a news conference in Yerevan.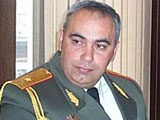 In his words, Aghabekyan explained his decision by the wish to engage in politics and participate in the parliamentary election in May 2007.
"I will make a decision on the issue one of these days," Sargsyan said adding that no fundamental changes are expected in the Ministry's staff.
The Defense Minister also said that the army participates in the election on the common basis and no pressure is exerted on commanders.
"The command staff vote on their wish. It's another matter that they can vote for those supported by the Defense Minister. I think it would be incorrect if the command did not share the opinion of their Minister. I should also note that generally the votes of the military are not decisive. They make some 40 thousand out of the total number of voters," the Minister said.
/PanARMENIAN.Net/