Addressing students and professors of Slavic University of Baku on Friday, Victor Yushchenko said Ukraine was ready to send peacekeepers to Azerbaijan to help settle the lasting conflict in Nagorno Karabakh, according to the President's press-office.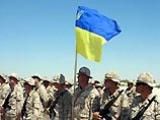 "Ukraine believes it is necessary to recognize the territorial integrity of the Republic of Azerbaijan and to withdraw troops from the occupied territory," he said.
"The use of force and pressure yields no results and dead-ends the conflict," he opined.
The Head of State also said he believed it was important to let refugees return to their homeland and later decide the status of the Karabakh autonomy at a national referendum.
He said peacekeeping effort in the region could help stabilize the situation, adding Ukraine was ready to participate under the aegis of OSCE or the UN Security Council.
"I told Ilham Aliyev at our meetings Ukraine was ready to offer peacekeepers to resolve the conflict," he said.
/www.unian.net/