Nagorno Karabakh, one of the world most frozen and forgotten conflicts, surfaced at the UN on Tuesday, if only for ten minutes.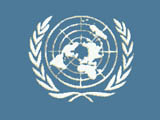 The General Assembly was scheduled to vote on a resolution concerning fires in the occupied territories of Azerbaijan. The diplomats assembled, or began to assemble, at 4 p.m.. At 4:15 it was announced that in light of ongoing negotiations, the meeting was cancelled, perhaps to reconvene Wednesday at 11:30.
Sources close to the negotiations told that the rub is paragraph 4 of the draft resolution, which requests that the Secretary-General report to the UN General Assembly on the conflict. Armenia wants the matter to remain before the Minsk Group of the Organization for Security and Cooperation in Europe, which has presided over the problem for more than a decade. Leading the OSCE's Minsk Group are Russia, France and the United States, members of the veto-wielding Permanent Five on the UN Security Council, nations which Azerbaijan claims have ignored its sovereignty as well as blocking Security Council action, as for example Russia has on Chechnya.
Of the fires, Azerbaijan has characterized them as Armenian arson, and has asked for international pressure to allow it to reach the disputed territories where the fires have been.
At a July 13, 2006 briefing on the BTC pipeline, Inner City Press asked the Ambassador of Azerbaijan Yashar Aliyev about the pipeline's avoidance of Armenia. We cannot deal with them until they stop occupying our territory, Ambassador Aliyev said. "You mean Nagorno Karabakh?" Not only that, Amb. Aliyev answered. That's only four percent. Few people know this, but Armenia has occupied twenty percent of our territory.
Both Amenia's Foreign Minister Vartan Oskanian and UN Ambassador Armen Martirosian have said publicly in the past month that if Azerbaijan continues pushing the issue before the United Nations, the existing peace talks will stop. Armenian sources privately speak more darkly of an alliance of Georgia, Ukraine, Azerbaijan and Moldova, collectively intent on involving the UN in reigning in their breakaway regions including South Ossetia, Nagorno-Karabakh and Transdniestria -- examples of what some call the micro-states. Armenia is concerned that in the UN as opposed to OSCE, Azerbaijan might be able to rally Islamic nations to its side.
It is not only to predominantly Muslim nations that the Azeri's are reaching out. The nation's foreign minister Elmar Mammadyarov met recently with this Swedish counterpart Jan Eliasson, the outgoing president of the General Assembly.
Following Tuesday's General Assembly postponement, Inner City Press asked Mr. Eliasson if, in light of his involvement in reaching the 1994 cease-fire, he thinks the GA might have more luck solving the Nagorno Karabakh than the OSCE has.
"I hope so," he said. "I'm in favor of an active General Assembly." He recounted his shuttle diplomacy to Baku in the early 90s. And then he was gone.
/Inner City Press/