At the Milli Mejlis special sitting today debates on forming the new Central Election Committee (CEC) have been held.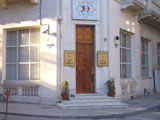 There are differnces in opinions in regard to this issue, Trend reports. Deputies Ayidin Mirzazade, Samed Seyidov and other noted the importance of the CEC complete forming after 13 May 2006 by-elections.
After long debates, in accordance with the articles 19.7 and 24 of the Azerbaijan Election Code, taking into consideration submissions of the New Azerbaijan Party (YAP), independent deputies, constituting the majority in Milli Mejlis and such parties, as Ana Vatan, the Party of Democratic Reforms of Azerbaijan, the Party of Great Establishment, the National Front Party the Whole Azerbaijan, the party of Social Welfare, the Party of Civil Solidarity, making up the minority, Milli Mejlis took a decision to form CEC.
The new CEC comprises: from YAP – Mazahir Panahov, Svetlana Gasimova, Fuad Djavadov, Ramiz Ibrgaimov, Valida Kazimova and Gabil Guliyev. From independent deputies: Tofik Hasanov, Ilham Mammadov, Natik Mammadov, Nizami Nadirov and Azer Tgaiyev. Tamam Jafarova, Rovshan Ismaylov have been appointed the party candidates, making up the minority in the Parliament to CEC.
At the same time the Parliament took a decision not to form the CEC replacement composition. Under the decision, Zeynal Agayev (YAP), Suretdin Humbatov (YAP) and Nadir Agilov have been elected CEC replacement members.