"Some problems still remain unresolved though longstanding efforts of Council of Europe, in co-operation with the Azerbaijani authorities".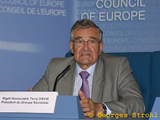 The author of these explanations is Terry Davis-Secretary General of Council of Europe. Terry Davis gave this explanation after new report of OSCE bureau of Democratic Institutions and Human Rights within Azerbaijan was published.
The information was given to APA from Information Office of Council of Europe in Azerbaijan.
Head secretary Terry Davis called official bodies of Azerbaijan to execute obligations under the European Convention on Human Rights and to make the Committee for the Prevention of Torture report, made in January 2004, and their own response public without delay.