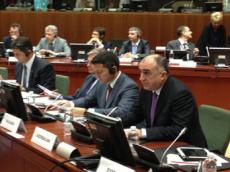 Azerbaijani FM Elmar Mammadyarov has blamed the occupation of the country`s lands by Armenia for inability to fully benefit from Eastern Partnership initiative.
"The ongoing occupation of the territories of the Republic of Azerbaijan, including the Nagorno-Karabakh and seven adjacent regions by the Republic of Armenia, makes impossible to fully benefit from the multilateral framework of Eastern Partnership," Mr. Mammadyarov told the Foreign Ministers` meeting of EU Member States and Eastern Partnership countries in Brussels.
"The Republic of Armenia, which exercises overall effective control over the occupied territories of the Republic of Azerbaijan attempts to consolidate the current status quo and impose a fait accompli practices through sustaining the illegal economic activities in these territories," he said.
"The fraudulent trade exercise, which I mentioned above, is just one of the cases. Armenia should not enjoy the preferential treatment of the EU when it comes to imposing sanctions and other restrictive measures vis-à-vis those activities."
The FM also highlighted Azerbaijan-EU relations: "Another remarkable development in our Euro-integration process has been the signature of the Protocol on Azerbaijan's participation in EU programs, which was inked during the June visit of Mr. Jose Manuel Barrosso, President of the European Commission, to Azerbaijan. This framework document will give Azerbaijani institutions and citizens a greater access to EU programs ranging from education and research to culture, arts and science. We look forward to increasing cooperation between Azerbaijani institutions and relevant EU agencies in capacity building and promoting exchange of expertise in key domains."
"Let me also mention that one of the priority activities of Azerbaijan's current chairmanship of the Committee of Ministers of the Council of Europe is about to foster co-operation and synergy between the three key pillars of the CoE and other international organizations such as the European Union. Using this opportunity, I would like to stress that the Azerbaijan's Chairmanship encourages all EU member and Eastern Partner countries to actively support and to constructively contribute to a number of activities to be organized with aim at strengthening that cooperation. While addressing the challenges that Europe is currently facing, Azerbaijan is ready to coordinate its efforts with other international actors, especially with the European Union during the whole period of its chairmanship," Mr. Mammadyarov said.
"While culture and cultural diversity are the best exports that Azerbaijan has, we are keen to work in other tangible and strategic dimensions. In that regard, the ongoing development towards the opening of the Southern Gas Corridor, including the expansion of the South Caucasus Pipeline, construction of TANAP and Trans-Adriatic Pipeline, has been Azerbaijan's major contribution to fulfilling the objectives of the Vilnius Declaration. Azerbaijan has proved to be a reliable strategic partner of EU in the field of energy. These projects with estimated total investment of more than EUR 45 billion will help ensure European energy security by committing sizable, reliable, and alternative gas volumes at competitive prices to meet the demand of a European consumer. In this regard, a stepped-up support of our European partners would play a critical role in a timely completion of the construction of the afore-mentioned pipelines. Azerbaijan also continues its efforts on developing potential gas transport infrastructure directly linking the Caspian region with the EU."
The FM said: "Mentioning trade, I would like to express our concern on some disappointing facts regarding distorted trade practices, which we discovered in the past. It came to our attention that goods produced by Armenia in the Nagorno-Karabakh region and other occupied territories of the Republic of Azerbaijan have been allowed to enter the EU market under various fraudulent labels in contradiction to the rules of origin and the commitments undertaken by Armenia in the World Trade Organization agreements. This is a clear case of violation by Armenia of its WTO obligations. When acceding to WTO, Armenia reaffirmed that the terms and conditions of its WTO membership, as well as the obligations of the Republic of Armenia under the WTO Agreements and the provisions of those Agreements, should only apply to the territory of the Republic of Armenia as recognized by the United Nations. Therefore, recalling the recent regulatory legal framework adopted in respect to other similar cases in Eastern Partnership region, we call upon our European partners to undertake all measures to prevent such distortive steps by the Armenian side."
/AzerTAc/