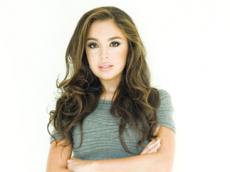 By AzerNews
Young people should remember that countries have a shared responsibility for the future of the region's ecology, and a joint action and cooperation in order to save fragile nature can deliver tangible results in this area.
Leyla Aliyeva, the vice president of Heydar Aliyev Foundation and the head of the international environmental organization IDEA, made the remark in her message to the participants of an international environmental forum of CIS countries.
The forum, titled "Learn from each other", opened in Baku on December 17 and will run till December 19.
A lot depends on the younger generation open to dialogue and innovation and far from the prejudices and artificial boundaries, Aliyeva said.
"We live in one of the most picturesque and mineral-rich regions of the world. At the same time we are accustomed to believe the nature is all-powerful, often forgetting about the harmful influence of man on the environment."
"Daily activities of the people on Earth causes serious environmental damage, endangering such basic components of our life as clean air and drinking water," the message reads.
2013 was declared the year of ecological culture and environment in the CIS. Over 40 young ecologists from these countries are participating in the event.
Aliyeva expressed confidence that the forum will be a good opportunity to exchange views and finding new ways of solving global environmental problems, and wished the participants success in this urgent matter.
"The future of the planet is in our hands, and only united we can protect nature and give the future generations this beauty of the Earth, which we posses now," she underlined.
The forum is aimed at strengthening of environmental thinking in Azerbaijan and in the world, increasing the responsibility of the youth in the sphere of ecology and the environment, as well as speeding up the implementation of environmental projects in Azerbaijan.
Deputy Minister of Youth and Sport of Azerbaijan Intigam Babayev said at the forum, that within the declared "Year of Ecology", various events are held in Azerbaijan.
"We organized an environmental camp in summer of 2013 with the participation of representatives from the CIS countries and today as a continuation of these activities we are holding a forum," he said.
"I believe that within the forum the youth will hold interesting discussions and exchange of views. I believe that the participants will have interesting joint initiatives and ideas in the sphere of environmental education and environmental protection. In the future, it will be possible to implement these projects in the CIS space too," he said.
The event is supported by the Azerbaijan Youth and Sport Ministry, IDEA Public Union (International Dialogue for Environmental Action) and the "Friends of Nature" Public Youth Association.