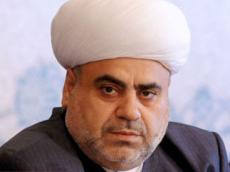 A delegation led by Chairman of the Caucasian Muslims Office Sheikhulislam Allahshukur Pashazade, who is in Tbilisi to attend events on the 35th anniversary of the enthronement of the Catholicos-Patriarch of All Georgia Ilia II and his 80th birthday, has laid a wreath at the bust of national leader Heydar Aliyev here.
Then Allahshukur Pashazade visited outstanding playwright Mirza Fatali Akhundzade`s house museum in Tbilisi and became familiar with construction of the building of the Azerbaijani Embassy in Georgia.
Pashazade also met representatives of the Azerbaijani community in Georgia. Sheikhulislam spoke of President Ilham Aliyev`s care and attention to Azerbaijanis living abroad, particularly in Georgia.
Then Pashazade met representatives of religious confessions in Georgia. The Chairman of the Caucasian Muslims Office spoke about his friendly relations with Catholicos-Patriarch of All Georgia.
Sheikhulislam praised Azerbaijan-Georgia relationship in various spheres. He also expressed confidence that Georgian Prime Minister Bidzina Ivanishvili`s visit to Azerbaijan and his meeting with President Ilham Aliyev would contribute to boosting relationship between the two countries.
Pashazade presented the "Sheikhulislam" order to Ilia II for his contributions to development of cultural relations in the Caucasus region, CIS territory, expansion of dialogue among religions and peoples, as well as strengthening of friendly ties between the Georgian Apostolic Autocephalous Orthodox Church and Caucasian Muslims Office.
/
AzerTAc
/