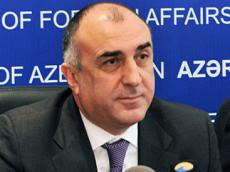 The Council of Foreign Ministers of the Organization of Economic Cooperation (ECO) has supported the initiative of establishing the ECO Parliamentary Assembly.
Azerbaijani Foreign Minister Elmar Mammadyarov has presented a report on the work done within the Ministerial Council meeting at the ECO Summit of Heads of States and Governments.
He said that the Council has discussed the prospects of cooperation between the ECO member-countries.
"We have considered different initiatives to further develop the organization's activity, particularly in such areas as trade, transport, communications, energy, industry, agriculture, environment and health," he said.
Mammadyarov added that the ECO Council of Foreign Ministers has also reviewed the implementation of agreements reached earlier, as well as cooperation issues between ECO and regional organizations.
"The Council stressed the significant progress achieved after the previous ECO Summit held in Istanbul," he said.
The Council of Foreign Ministers has provided the Council of Turkic-speaking countries with an observer status in the ECO.
The ECO Council of Foreign Ministers has appreciated the work of prominent figures and representatives of the Council, their recommendations to improve the ECO dynamism and efficiency.
Mammadyarov said that the Postal Union of the ECO member-states has also been created.
The Council has also considered a draft of the Baku Declaration which will be adopted following the summit. It reflects the countries' commitment to the cooperation to increase the ECO dynamism.
"We have also accepted Tajikistan's invitation to host the next ECO summit in this country," Mammadyarov said.
The Organization for Economic Cooperation was founded by Iran, Pakistan and Turkey in 1985. In 1993 the organization was granted observer status at the UN and a year later in the Organization of Islamic Conference, now the Organization of Islamic Cooperation.
/
Trend
/