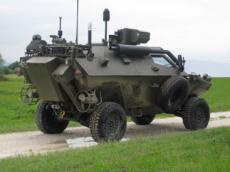 Azerbaijan has purchased new armored vehicles "Cobra" from Turkey.
Military source told APA that the next confinement of military vehicles will be delivered to Baku soon. The transportation on additional military vehicles is realized within an annex to the agreement signed in 2012.
Note that, Turkey's Otokar supplied Azerbaijan with 123 different types of military vehicles – 35 "Cobra" armored vehicles, 37 ZPT armored personnel carriers and 51 "Land Rover Defender" transportation vehicles on the base of agreement signed in 2010 for USD 20, 7 mln.
Azerbaijan also showed interest in "Arma" armed vehicles which are capable to protect passer-bys from mines, produced by Otokar.
"Cobra" 4*4 wheels are used for 13 member personnel transportation. The vehicles weight is 6 tons; the speed is 110 km p/h. It's possible to install different types of arms on the vehicle that are capable to protect personal from radioactive and chemical attacks, as well as from mines.
Among the former Post soviet countries, only Azerbaijan, Georgia and Kazakhstan's armed forces possesses "Cobra" armored vehicles, at present
/
APA
/