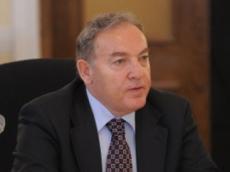 Turkish Ambassador to Azerbaijan Hulusi Kilic suggested that the date of September 15 was observed in Azerbaijan as an official holiday
The proposal was made by the ambassador at a press conference on Friday. He recalled that the Caucasian Islamic Army led by Nuri Pasha and Azerbaijani corps entered Baku and liberated the country from the Armenian-Bolshevik occupation on Sept. 15, 1918.
"Thus the independence of Azerbaijan was secured and an end was put to the rule of the Bolsheviks and the Armenians in Baku and regions of Azerbaijan. Liberation of Baku from the Armenian-Bolshevik occupation is one of the glorious pages in the history of Azerbaijan in the twentieth century" Kilic said.
/
Trend
/