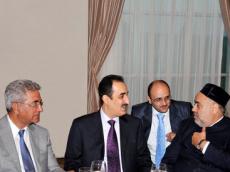 A meeting of the ambassadors of Saudi Arabia to Middle and Western Asia held in Baku. Assistant Foreign Minister of Saudi Arabia Khaled Bin Saud Khaled Al Saud said good relations were established between Saudi Arabia and Azerbaijan. He stressed the necessary of expanding ties even more. The prince said two nations have close cultural and economic relations. He reminded on important documents signed between the Saudi Arabia and Azerbaijan. He recalled his visit to Azerbaijan on October 2012 adding he had witnessed great development of Baku.
Following the meeting, dinner was arranged in honor of participants. Ambassador of Saudi Arabia to Azerbaijan Fahd bin Ali al-Dusheri said conducting of the diplomats` meeting in Baku is an evidence of close relations between the two states.
The dinner brought together head of the foreign relations department of Azerbaijan`s Presidential Administration Novruz Mammadov, deputy foreign minister Hafiz Pashayev, chairman of the State Committee on work with religious structures Elshad Isgandarov, chairman of the Caucasian Muslims Office Allahshukur Pashazade, ambassadors of the Arabian countries to Azerbaijan.
/
AzerTAc
/