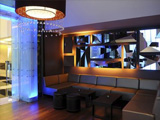 Not so long ago, Hilton Hotel was opened in Baku. The hotel combines luxury, respectability, comfort and unusual design in one.
Hilton Baku is distinguished with 4 magnificent restaurants, several bars, conference, exhibition and banquet halls and health center "Euphoria". But the main thing that makes Hilton Baku unique of its kind is the "Roof Bar" on the last 25th floor which within an hour revolves around its axis by 360 degrees.
Some arriving quests on the eve of "Eurovision 2012" in Baku, might consider staying in the hotel.
/Day.Az/