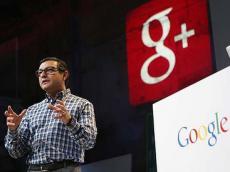 Google is introducing more tools to automatically edit images posted on its social network in its latest attempt to lure traffic away from Facebook and other online hangouts.
Most of the 18 new features unveiled this week rely on technology designed to identify the photos and videos that are likely to be the most important to the individual users of Google+.
Google launched the service two years ago as an alternative to Facebook's pace-setting social network.
Google+ now has 540 million active monthly users, up from 390 million in May. But many of those users may only be watching YouTube videos or reading emails in Gmail while logged into Google. The service has 300 million active monthly users "in the stream" – users who actually visit the Google+ website or app directly.
Advertisement
But it has a long way to go to catch up to Facebook, which has nearly 1.2 billion active users.
In an attempt to turn Google+ into a photo-sharing hub, it added an assortment of automatic ways to manage images five months ago.
The latest features build upon those innovations.
Attracting more video is less important to Google because the company already owns YouTube, the internet's most popular destination for posting clips.
"At Google, we are looking at doing nothing less than revolutionising the field of photography," said Vic Gundotra, the company's senior vice-president of engineering.
Google's new editing tools can automatically touch up images or perform tricks such as erasing people from photos or creating animated GIFs – stringing together multiple images to make it seem like the subject of a picture is moving.
Another feature will create a short movie set to music when a user selects different videos and pictures to mix together.
Snapseed, a Google-owned mobile app that competes against Facebook's Instagram photo app, is also getting a new filter to improve the appearance of landscapes and structures.
Google has been focusing on building better image-management tools because a growing number of people are posting videos and photos online on social networking services.
About 54 per cent of internet users now post their own pictures or video online, according to a recent survey by the Pew Research Centre.
Google said about 1.5 billion photos are being shared on its social network each week.
Facebook recently said about 350 million pictures are being shared per day, or more than 2.4 billion per week. Millions more are shared on Instagram, which Facebook bought last year.
Snapchat has also become a popular spot for sharing photos, especially among people aged 18 to 29, according to Pew's survey. Unlike Google+, Facebook and other services, Snapchat wipes out the pictures once they have been viewed.


/Smh.Com.Au/