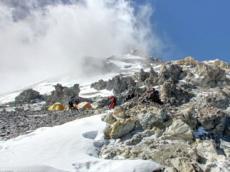 For armchair climbers, the search engine giant now offers views from the base camps of mighty peaks such as Everest and Kilimanjaro.
After allowing everyone the pleasure of snooping into other people's back gardens, Google has now updated its Streetview to take you on a virtual tour of Kilimanjaro, Aconcagua, Elbrus and Everest base camps. For those of us who have sometimesidly thought of climbing these mountains, but prefer to do without the cold and the danger, these images take us a few steps nearer to our dream.
Click on the arrow and you can get a 360-degree view, thanks to the Google employees who hiked the peaks with a lightweight digital camera and fisheye lens. If you want to get to the top, though, you'll still have to get out of your chair. For the time being.
/The Guardian/