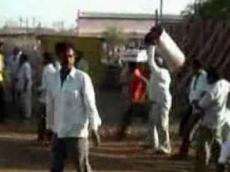 At least 31 people have been killed and 20 others injured in a massive blaze at a fireworks factory in the southern Indian state of Tamil Nadu, police say.
Television channels showed black smoke rising into the sky above the factory. Reports said casualties could rise.
The incident took place in the town of Sivakasi, the hub of India's firecracker industry.
The town has thousands of factories and produces about 90% of India's fireworks.
M Ramamurthy, deputy superintendent of police for Virudhunagar district where Sivakasi town is located, told the BBC that 31 bodies had been taken out from the Om Shakti factory.
Senior police officer Najmul Hoda, who was outside the factory, told the BBC that they were not able to go in because of continuing explosions.
"It's very hot and the conditions are difficult for my men to enter the building. The factory has a huge stock of firecrackers and the explosions are still going on. There may be more men trapped inside but it's hard to tell so far," he said.
It was not immediately clear how the fire started. Accidental explosions are common at Indian fireworks factories, which provide fireworks for weddings, festivals and other ceremonies.
But many such factories are illegal operations.
/
BBC
/