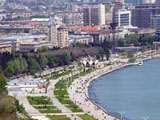 An opening ceremony of the painting exhibition "We are here! The world through our eyes" by pupils from Khizi and street children was held here on Wednesday. Azerbaijan Children Union organized the exhibition supported by the United States Embassy in Azerbaijan and Maryland Institute College of Art (MICA).
Public affairs officer at the US Embassy in Azerbaijan Victoria Sloan provided information on the event realized within the framework of Virtual Art Initiative. "The project is a joint one of street children from Baku and the regions of Azerbaijan, children of low-income families and American and local painters," Victoria Sloan added.
Employees of MICA Ken Krafchek, Natalie Tranelli and Anne Kotleba held trainings for young artists as part of the program. Victoria Sloan highlighted the project dedicated to children creative activity on boosting the US-Azerbaijan friendship. Project participators were given certificates.
Honorary member diplomas of the Azerbaijan Children Union were presented to Ken Krafchek, Natalie Tranelli and Anne Kotleba.
/AzerTAc/