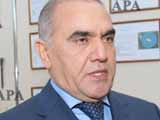 It is planned to hold international defense exhibition in Azerbaijan next year, Azerbaijan's Minister of Defense Industry Yaver Jamalov said.
Highly estimating these exhibitions from standpoint of learning and demonstarting defense technologies, Jamalov said that within this year he would attend two more international defense exhibitions of Azerbaijan.
"One of these exhibitions will take place in September in Poland, and another one in November in the South African Republic. Azerbaijan tries to demonstrate its defense products by such exhibitions in the world".
/APA
/