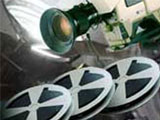 The project was prepared in the framework of "Echo of Voices" non-governmental organization with British Council support for the film company "Nariman film" & the Union of Cinematographers of Azerbaijan.
"The more we communicate, learn about each other, the more fruitful will be our cooperation. I hope that this project with the British Council will be following, which contributes to the convergence of the Azerbaijani and British cinema". said Director of  "Nariman film" Nariman Mammadov.
"Echo of Voices" - a regional project implemented in five countries in the Black Sea region. Its main purpose is to use actors and audience in discussion and debate about the impact of conflict on everyday life in the strategically important regions, such as those in the Black Sea.
Project Partner "Nariman film" - a private studio, based in Azerbaijan in 1993. The organization's mission - to actively participate in the development of Azerbaijani cinema through training of professionals in film, as well as the national production of documentary and feature films, promotion of local and foreign markets, legal support for film productions.
/Trend Life/