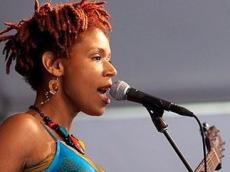 Carmen Souza from Portugal gave a concert on Monday as part of the Baku International Jazz Festival 2012 co-organized by the Ministry of Culture and Tourism and the Culture Foundation.
Carmen Souza starts 2011 with a special performance on Italian national television RAI UNO, Concerto Dell Epifania, broadcasted to millions in Italy on the Jan 6, a religious holiday and went on a long tour to sold out big venues and Festivals and mesmerize audiences and Press in UK, Brazil, Turkey, Netherlands, Germany, Cape Verde, Latvia, Ireland, Portugal, Finland, Italy, USA and Canada.
January 2012 was the month to release her first live album, in Duo with her long time music partner, Theo Pas`cal. A new album "Inspiracon/Inspiration" is coming out Oct 2012.
/
AzerTAc
/