The air tickets to Russia, Turkey and Dubai have risen in prices by at least 3-6% through the last month.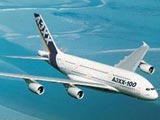 The due information has been provided by Day.Az with reference to ANS TV channel.
It should be noted that a month ago the price of Baku-Moscow-Baku air tickets was AZN 446, while its cost made up AZN 472. A month ago the cost of a Baku-Dubai return ticket made up AZN 441, while now it is AZN 449. At the same time, the cost of a Baku-Istanbul return ticket has risen by 3%.
A source from AZAL state concern noted that prices on tickets in EUR have not risen. Prices on air tickets in AZN have rise only because EUR has consolidated in correlation to AZN and USD.
It should be reminded that state concern AZAL entered the European zone of the international air-communication organization in November of this year and in this connection all tickets should be fixed in EUR.
/Day.Az/