Our task is to increase the commodity turnover between Azerbaijan and Russia in 2008.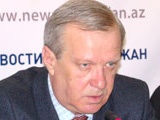 The due statement was made by Russia's trade representative in AzerbaijanYuri Shedrin at a press conference today, Day.Az reports.
He said the commodity turnover between the two countries will reach $2,000,000,000 in 2008.
308 representations of Russian companies were operating in Azerbaijan in mid 2007, while by the end of the year their number rose by 10-12 points. This year we plan to raise the number of these offices up to 400", Shedrin said.
He noted that despite suspension of Russian gas imports to Azerbaijan beginning from January 1 of 2007, the volume of mutual trade turnover has a positive growth dynamics this year, while its structure changed with the rise in the share of non-crude production.
/Day.Az/
Related news:


Yuri Shedrin: "Russia is still leading among countries, supplying commodity to Azerbaijan"
Russia exports over 20,000 cars to Azerbaijan in 2007
Commodity turnover between Azerbaijan and Russia makes up $1,529,800,000 last year