Azerbaijan is predicted to earn $400 billion of oil and gas revenues within 16 years, said Azerbaijan's Industry and Energy Minister Natig Aliyev said in an interview with a group of reporters from the EU countries.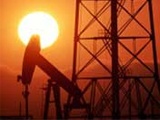 He said the current uptrend in the world oil market increased expectations while country's oil and gas revenues had previously been forecasted to be $200 billion until 2024.
According to him, Azerbaijan is expected to produce 20 billion cubic meters of natural gas from Shah Deniz in 2010-2012 and will occupy an important place in energy security of Europe.
He said Azerbaijan has demonstrated political will for implementation of Nabucco and Trans-Caspian Projects.
The assets of State Oil Fund of Azerbaijan (SOFAZ) are predicted to grow to $7 billion this year if oil prices remain high.
/APA/