State Oil Company of Azerbaijan (SOCAR) and Total of France have signed a Memo of Understanding on development of Absheron Offshore Field in the Azeri sector of the Caspian.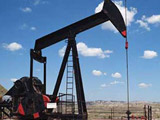 French energy company Total has revived talks with Azerbaijan on developing a Caspian Sea gas field after the previous consortium fell apart due to poor drilling results.
Azeri state oil firm SOCAR said in a statement on Thursday it had signed a memorandum of understanding with Total over the Apsheron block on the Caspian Sea and hoped to sign a full production sharing agreement within one year. Total and Socar were part of the group led by U.S. oil major Chevron that failed to find commercial reserves of oil or gas when it drilled the first exploration well on Apsheron in 2001.
Chevron decided against continuing operations after investing more than $75 million in the first well and walked out of the deal, paying Socar compensation.
SOCAR says Apsheron gas reserves could be as high as 1 trillion cubic metres, comparable to the neighbouring giant Shakh Deniz field, which is due to start pumping gas to Turkey later this year.
Total participates in Shakh Deniz, which is led by BP and Statoil. Reuters