The Dow Jones industrial average slipped 5.44 points, or 0.04 percent, to end at 12,577.15, the Standard & Poor's 500 Index dipped 1.28 points, or 0.09 percent, to close at 1,430.62, the Nasdaq Composite Index fell 18.36 points, or 0.74 percent, to finish at 2,479.42.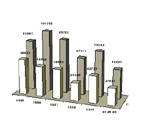 Intel, the world's largest microchip maker, said late on Tuesday that quarterly profit fell 40 percent and gross margins would not improve.
Intel shares dropped 5.7 percent, or $1.26, to $21.04, their biggest one-day percentage fall since mid-July. Apple's stock lost 2.2 percent, or $2.15, to $94.95.
NYMEX February crude rose $1.03 to settle at $52.24 a barrel. That price, however, is down sharply from its year-end level when NYMEX crude was more than $61 per barrel.
Economic data on Wednesday showed a stronger-than-expected gain in the Producer Price Index in December and a rise in December industrial production above economists' forecast. APA