Armenia's foreign minister said Wednesday that the South Caucasus country should seek to diversify its natural gas suppliers, following Georgia's example.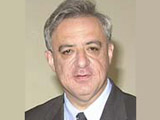 According to RIA Novosti, in January, Russia doubled the price for natural gas supplies to the former Soviet republic from $54 per 1,000 cubic meters to $110 as part of its efforts to put the gas market on a free-market basis. But the move has put some strain on relations with Armenia, whose struggling economy is heavily dependent on Russian supplies.
"Like Georgia, Armenia should diversify its gas sources," said Vardan Oskanyan, who is in Georgia on a two-day visit. "We are currently discussing with our Iranian colleagues issues concerning Iranian gas supplies to Armenia."
Georgia now imports natural gas from Iran via Azerbaijan. Supplies began in January after explosions on a pipeline from Russia, previously Georgia's sole supplier.
Oskanyan said that the Iran-Armenia gas pipeline would be commissioned by January 2007 and added that a mooted trans-Caspian gas pipeline to pump gas from energy-rich Central Asia to Turkey and Europe via Azerbaijan and Georgia, was also of interest for his country.
The construction of the 141-kilometer (90 mile) pipeline from Iran began in 2004. It will bring Armenia about 36 billion cubic meters of gas over 20 years. The natural gas will be used for electricity generation for Armenia's domestic needs and for export to Iran.