Natik Aliyev, the Azerbaijani Minister for Industry and Energy, is currently attending the Black Sea Energy Conference, which started in Bucharest, Romania, on 3 April and will last till 5 April.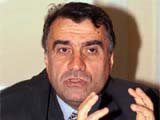 Initiated by the Black Sea Economic Cooperation (BSEC) organization the event is organized by the Romanian Ministry of Foreign Affairs, Economy and Trade, as well as Chambers of Commerce and Industry of Romania and the United States.
Attending the conference will be Energy ministers of BSEC member-countries, heads of leading companies and international financial organizations, the Ministry told Trend.
Aliyev will deliver a report on 'Role and significance of natural gas of Azerbaijan and Caspian countries in supply of energy markets of Europe'.
The Energy and Industry Minister will meet with the Romanian Minister of Economy and Trade and sign agreement on mutual understanding in the industry and energy spheres of the two countries.