State Oil Company of Azerbaijan started drilling a new well on the "Govsan" oil field with a designed depth of 3700 meters. About 200 meters have been drilled alreadyby the moment. The daily average drilling speed is 50 meters.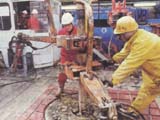 The works are performed by the Department of Drilling Works (DDW) of Gum Adasi at the order of the Oil and Gas Producing Unit (OGPU) Qum Adasi. SOCAR noted, the well is planned to be commissioned in the first half of 2006.
DDW Qum Adasi drilled 16048 meters since the start of the year, which is by 1,1 percent more of the last year's same period. For the period according to the plan specified by OGPU, Qum Adasi commissioned two new wells. For nine months of 2005 OGPU produced 128423 tons of oil and 263427 thousand cubic meters of gas.
Trend