Finland-Azerbaijan forum will be held in Baku in September of this year.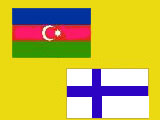 According to the information given to APA from the press service of Azerbaijan Republic Entrepreneurs (Employers) Organization of National Confederation (ONC), ambassador of Finland on Caucasus countries Ms.Terhi Hakala paid a visit to our country on June14 aimed to preparation work to the forum and held meetings in ONC. She got acquainted with   economy, law on owners of Azerbaijan. The list of companies from Finland to participate in business forum will be sent to ONC within two-or three weeks.
Besides, the list of Azerbaijani companies will be made out to join the forum.