Testing of the Azerbaijani section of the Baku-Tbilisi-Ceyhan (BTC) main export oil pipeline is complete. BTC Co, operated by BP, told Trend, only 16km-long trenches are still to be closed along the pipeline with the length of 1,768 km.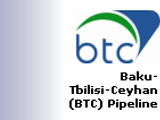 BTC Co implemented inspection for rehabilitation of bio-resources along the BTC pipeline in Azerbaijan.
Four pipeline sections were successfully tested in Lot-? section (275 km), located in the Georgian-Turkish border. "Unfavorable weather conditions, particularly, snow and heavy rains, affected on the construction of four pump stations. Attraction of additional work force enabled to increase the progress of construction," the company announced.
Early in May BTC Co. started fulfilling the head pump station at Sangachal terminal (PSA-1), implementing the first stage of technical oil pumping to BTC. A total of 10 million barrels of oil is required for fulfilling the pipeline. Oil is delivered from the Azeri-Chirag-Gunashli fields.