The financial police of Georgia informed BP Azerbaijan about incut to pipeline Baku-Supsa, which transports oil from Azerbaijan field "Azeri- Chirag-Guneshli".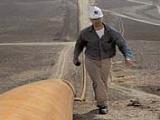 The agency Trend reports, BP Azerbaijan, which is operator of oil pipeline, informed about this.
"We are to cooperate with investigation process. This fact didn't influence neither on operation of pumping of Azerbaijan oil by Baku-Supsa, nor on whole operation porcess", BP Azerbaijan stated.
The Georgian mass media informed, the financial police at one of eastern regions of Georgia detected the fact of embezzlement of oil from pipeline Baku-Supsa. 15 meters pipe, laid underground was cut into the pipeline, and oil was pumped out to tanks, driven especially for this purpose.
The Georgian mass media informed, employees of the financial police of the region confiscated one tank with 20 tons.