An economic conference on Azerbaijan will be held in Berlin, Germany, on 31 May 2005, the Secretariat of the Council of Entrepreneurs at the Azerbaijani President told Trend.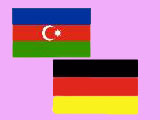 "Germany takes great interests in Azerbaijan and we expect to have larger audience in the forum which targets familiarizing Germany with investments," the secretariat announced.
The conference will be complete on 1 June 2005. An agreement on the organization of this event was achieved during the talks between Azerbaijani President Ilham Aliyev and German Chancellor Gerhard Schreder in Berlin in summer of 2004.
According to State Statistics Committee, in 2004 the Azerbaijani-German goods turnover comprised $235402, 300. Trade deficit of Azerbaijan, which delivered $36941, 300 worth of goods to Germany, made up $161519, 500.