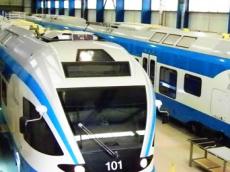 By AzerNews
The process of the construction of a passenger car plant in Azerbaijan's second largest city, Ganja is currently at the design stage, Azerbaijan Railways told Trend Agency last week.
The passenger cars of Azerbaijan Railways are currently repaired abroad, particularly in Ukraine and Russia, due to lack of necessary infrastructure.
The construction of the passenger car plant is being conducted by the Swiss company Stadler.
"At this stage, the company is working on the project, addressing the issues of supply of equipment and estimated capacity of the new facility. This is an important project and its development takes time," Azerbaijan Railways said.
Azerbaijan Railways and Swiss company Stadler signed an agreement in Baku on June 11 to purchase 30 new railroad passenger cars.
Touching on this agreement, Azerbaijan Railways said delivery of the passenger cars will be realized by 2015.
"This can be completed either in late 2014, or in the beginning of 2015. One can definitely say that the new passenger cars will be delivered to the country by 2015," the company said.
The passenger cars that meet European standards will be used after commissioning the Baku-Tbilisi-Kars railway. Azerbaijan plans to put this railway into operation in 2015.
The new cars will be purchased under the state program for development of Azerbaijan's railway transport for 2009-2014.
The Baku-Tbilisi-Kars railway is a regional rail link project that connects Azerbaijan, Georgia, and Turkey. The total length of the Baku-Tbilisi-Kars railway is 826 kilometers (about 513 miles). After commissioning the railway, mutual trade between Azerbaijan, Georgia, and Turkey will increase significantly and the total volume will exceed $10 billion per year.
The Swiss Stadler Rail Group, with its ten sites in Bussnang, Altenrhein, Winterthur (Switzerland), Berlin (Germany), Siedlce (Poland), Pusztaszabolcs, Szolnok (Hungary), Czech Republic (Prague), Italy (Meran), and Algiers (Algeria), is focused on regional and suburban service markets, regional express railway services, and streetcars.
Stadler Rail has positioned itself as a main supplier, complementing global rail vehicle builders such as Alstom, Bombardier, and Siemens.