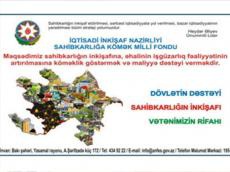 By AzerNews
The National Fund for Entrepreneurship Support under Azerbaijan's Economic Development Ministry has granted preferential loans worth 414,500 manats to 43 entrepreneurs from Jabrayil and Bilasuvar regions.
A credit fair was held on June 19 during a business forum with the participation of about 100 entrepreneurs in the settlement No. 4 in Bilasuvar region, where temporarily displaced persons from the Jabrayil region are settled.
The samples of investment projects were presented to establish bakeries, confectioner's shop, cheese dairy, sewing workshop. It is considered appropriate to finance them through concessional loans.
Speaking at the forum, Executive Director of the fund Shirzad Abdullayev said the fund issued concessional loans worth 30.8 million manats for 1,300 entrepreneurs among IDPs, as well as concessional loans worth 1.5 million manats for 244 refugees from the Jabrayil region.
The implementation of these projects contributed to opening about 2,700 new working places.
Some 4.9 million manats (including loans issued at the last forum) were issued for 100 entrepreneurs among IDPs in recent months.
About 250 new jobs are planned to be created thanks to the implementation of these projects.
The fund plans to issue loans worth 280 million manats in 2014, some 150 million manats of which will be provided by repayment, and the remaining 130 million manats from the state budget.
The National Fund for Entrepreneurship Support was established in 1992. Loans are allocated to entrepreneurs through 44 authorized banks and non-bank lenders.