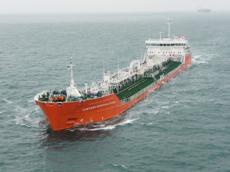 By AzerNews
The Palmali Group of Companies launched the Majid Aslanov tanker on June 19.
The tanker of the RST22M project with a load-carrying capacity of 7,000 tons was launched in a shipyard in Turkish Tuzla city, Trend Agency reported.
The tanker was named after the grandfather of Head of the Palmali Group of Companies Mubariz Mansimov at his own initiative.
The launching ceremony was attended by First Vice-President of the Palmali Group of Companies Marif Mansimov, directors and employees of the company and a number of local and foreign guests.
The vessels of the RST22M project enjoy the possibility of using the full-revolving propeller-steering columns as a single movement and control means, absence of longitudinal bulkhead in center plane, using of submersible pumps, complete absence of framework in the cargo tanks, and a developed trunk.
The vessels correspond to the dimensions of the Volga-Don Canal and Volga-Baltic Waterway. The overall length, width, and board height of the RST22M project vessels are 139.95, 16.6, and six meters, respectively.
The Palmali Group of Companies is specialized in transporting goods in the Mediterranean, Black and Caspian seas. Palmali is a general carrier for oil companies, including Azerbaijan's state energy company SOCAR and Russian Lukoil, and has long-term contracts on oil and oil products transportation with other oil companies.