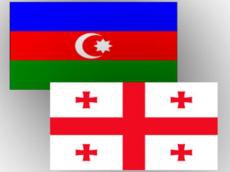 By AzerNews
Georgia exported to Azerbaijan the goods worth $37, 086 million in January 2014, which $9 million less than in the same period in 2013, the Georgian National Statistics Office reported.
Thus, despite the decline in exports, Azerbaijan remains the largest export market of Georgia.
Azerbaijan exported to Georgia the goods and services worth $48, 582 million.
Azerbaijan is the second largest foreign trade partner of Georgia. The trade turnover between the two countries amounted to $85, 668 million in January or 11.3 percent of the total volume of Georgia's foreign trade turnover.
Turkey is in the first place among Georgia's foreign trade partners with $114, 357 million, and China is the third with $58, 142 million.
The trade turnover between Azerbaijan and Georgia amounted to $1.35 billion or 12.5 percent of total foreign trade turnover of Georgia in 2013.
Azerbaijan mainly exports to Georgia petroleum, petroleum oils and gases, gypsum, anhydrite, plaster and other products, while the motor cars, live bovine animals, bars and rods of iron, cement are the most imported goods from Georgia to Azerbaijan.