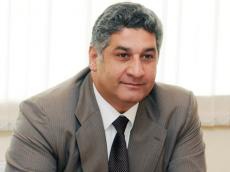 For Azerbaijan to host big events, different kind of very high-level sports events was and is a way for the Olympic games, said Azerbaijani Youth and Sports Minister Azad Rahimov said, commenting on the possibility of Baku hosting the 2024 Summer Olympic Games.
Rahimov made the remarks at a press conference.
"Next year we're hosting the World Chess Olympiad," he said. "We will also host the Formula 1 in Azerbaijan for the first time in July 2016, then we have UEFA European Under-17 Championship."
At the 15th UEFA European Under-17 Championship 2015-16, Azerbaijan will host the championship's finals.
Rahimov also reminded that Azerbaijan submitted bids for the 2016 Summer Olympics and later submitted a bid for the 2020 Summer Olympics.
This is while Azerbaijan has already hosted the 2012 FIFA U-17 Women's World Cup and various other international competitions, such as 2011 World Amateur Boxing Championships.
"Of course the European Games is also one of the steps to show that the country is ready to host big sports events," the minister said.
"All these different events, including the 2017 Islamic Solidarity Games and 2020 European Football Championship shows that we are preparing for the next step, we are checking our possibilities, our readiness in different spheres, and we're promoting sports and the country as well," Rahimov said.
Speaking about Baku bidding for the 2024 Summer Olympic Games (officially known as the Games of the XXXIII Olympiad), Rahimov said that the final decision will have to be made by the country's leadership.
"We have time to analyze the outcome of the European Games, just to see where we are, what our possibilities are and after that, I think the decision will be made," the minister said.
Azerbaijan is currently wrapping up the inaugural European Games that are taking place in the country's capital of Baku. The European Games kicked off in Baku June 12 and will last till June 28. There are a total of 20 sports at Baku 2015: 16 Olympic sports and four non-Olympic sports.
More than 6,000 athletes from across Europe came to Baku to represent their nations over 17 days of competition. Baku was awarded the games by the European Olympic Committees (EOC) in December 2012.