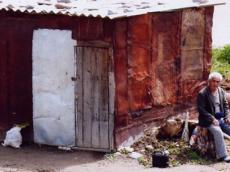 By AzerNews
Armenian President Serzh Sargsyan is avenging his citizens in Gyumri for his fiasco in this city in the 2013 presidential election. Thus, 4,000 Armenian families are still forced to live in inhuman conditions due to Sargsyan's failure to accept his defeat.
The Armenian families displaced after the 1988 earthquake are still waiting to be accommodated in the apartments promised by the ruling party during pre-election campaign.
The president, as well as cabinet ministers had promised to build 430 apartments to accommodate the displaced families. But the construction process has not yet accomplished.
The Urban Development Ministry recently reported that homeless families will not receive apartments in 2014 due to financial hardship. The families who have been living in temporary structures over the past 30 years believe that government's ignorance towards their plight is rooted in the presidential election held in 2013 when President Serzh Sargsyan lost the election in Gyumri.
Prime Minister Ovik Abramyan received a "warm" welcome in the country's second largest city Gyumri on July 22.
Angry with government's empty promises, dozens of homeless people surrounded Abramyan chanting anti-government slogans.
The people who have already received their apartments complain that the walls of the buildings are already cracking, and the doors are not opened properly. Abramyan has denounced the construction company and instructed it to remove all problems.
The protests of the homeless Armenians in Yerevan testify to the inability of authorities to fulfill their promises on improving people's living conditions.
"So, Sargsyan is now avenging the citizens for his failure," media say.
Outraged by the indifference of the government, the homeless residents of Gyumri said that they have already run out of patience. They urged on the officials to resolve their housing problem soon.