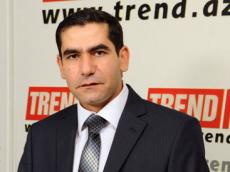 By Dalga Khatinoglu
What a great thing, saying "I am adoring" in response to someone who asks "what do you do?" How pleasant to become "nobody" to possess a beloved.
For me and everyone with knowledge of Persian and Azerbaijani neoclassic literature, deeply influenced by Platonic thought, understanding William Shakespeare's works are relatively easy because we are already acquainted with this world by poets like Hafez Shirazi, Saadi Shirazi, Attar Neishabouri, Omar Khayyam, Nizami Ganjavi, Mahammad Fuzuli, and above all of them, Jalal al-Din Rumi whose spiritual legacy and general theme can be summed up in one word: Passion.
However, identifying with Shakespeare's plays and poems is very easy for anyone from any nation, because he didn't paint any portrait in spite of 34,895 speeches spoken by 1,223 characters in his plays. Rather, he presented a clear mirror in front of us, without any judgment either about his characters or us.
Western and eastern painting styles so different it may make it quite difficult for people belongs to other cultures to understand them, but mirror is mirror without needing any interpretation, any nation and is not intended for a particular culture.
What a great job, making a beautiful collection composed of hundreds of devils, each one reminds us of hidden aspects of our being and above all, what a noble firm that inputs all of societies villainies and ravages, but outputs the purest beauty. Have a glance at the response feedback, by regarding more than 400 movies adaptations of his plays or numerous art works implying a Shakespearean approach.
Shakespeare and Rumi
A couple of days ago, on April 27 the 450th anniversary of Shakespeare's birth was celebrated worldwide. I, who celebrates him every second, am happy to see his work become more and more outstanding.
There are numerous resemblances between Shakespeare and Rumi, especially in term of their attitudes, extreme passion for beauty and wisdom.
Both of them were relatively familiar with Greek language, myths, philosophy and classical art (Ancient Greek and Roman literature), deeply under the influence of the Symposium and the Republic, both written by Plato.
Both of them were prolific poets.
Rumi composed about 60,000 lines of poems in his two works, Masnavi Maanavi with 27,000 lines and Divan-e Shamas with 35,000 lines.
Both of them were relatively familiar with several languages, narrating stories derived largely from native and other nations' cultures as a way to express their universal thoughts.
It's not accidentally when we see Rumi's poems have been translated widely into many languages, and have made him Iran's most famous poet abroad as well as one of the best-selling poets in the West.
Both of them were cosmopolitan, their maps cover all lands in the world and their ever-lasting works belong to all cultures and every one.
We may have a book as voluminous as their works by gathering their quotable aphorisms with each line containing a world of meaning and sense.
Rumi calls love the only doctor for all diseases in our bodies caused by disharmonies with nature. Love makes it, our musical instrument tunable to sound the same note harmonically, with peace.
They don't dictate or teach morality, but remind us of Socrates, who called himself 'midwife of souls'.
What a noble poet Rumi is when advising: "Die and die for sake of love. After that death you will possess soul" and what wisdom Shakespeare imparts when he says:" And when Love speaks, the voice of all the gods, Makes heaven drowsy with the harmony. Never durst poet touch a pen to write, Until his ink were temper'd with Love's sighs; O, then his lines would ravish savage ears, And plant in tyrants mild humility", or Rumi when says: "I denied myself in sake of her love and became totally my beloved" or Shakespeare: " O Romeo, Romeo! Wherefore art thou Romeo? Deny thy father and refuse thy name.... Romeo, doff thy name, And for that name, which is no part of thee, Take all myself", or Rumi: "My land is illocal, my name is Nobody, I don't have any soul and body, excepting the soul of beloved's soul".
Dalga Khatinoglu is Trend Iran News Service head