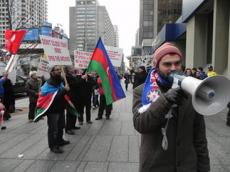 On January 23, 2012 French Senate passed a bill criminalizing the denial of the so-called "Armenian Genocide" that allegedly took place in the Ottoman Empire in 1915. The bill undermines the very basic values of democracy and civil rights. According to influential international organizations such as the Amnesty International and Reporters Without Borders, the bill limits the freedom of expression and "contravenes France`s international obligations to uphold freedom of expression,". Article 19 of the Universal Declaration of Human Rights says: `Everyone has the right to freedom of opinion and expression; this right includes freedom to hold opinions without interference and to seek, receive and impart information and ideas through any media and regardless of frontiers`.
Azerbaijani Youth of Canada Network (AYCN) organized a peaceful demonstration at the French Consulate in Toronto on January 27, 2012. The demonstration started at 3 pm on one of the busiest intersections in downtown Toronto. About 50 demonstrators armed with Azerbaijani, Turkish and Canadian flags, placards and flyers gathered to protest the French bill against the freedom of expression. The placards reflected the violation of civil rights, freedom of speech and called for Sarkozy not to establish a new censorship in France with the following messages, `R.I.P. French Democracy!`, `Freedom of Expression is a Civil Right!`, `History is for Historians!`, `Sarkozy, Do Not Violate the Civil Freedoms!`, `Do Not Let Sarkozy Spoil the French Revolution!` and other messages related to the topic. The demonstrators handed out 500 flyers informing about the controversial bill, reactions of the international organizations, Universal Declaration of Human Rights and encouraged to send protest letters to the French Embassy in Canada. An official statement addressing the French Consulate was read and signed by the participants. Although the Consulate prohibited the demonstrators to enter the building and thus prevented the statement to be handed in, it will be mailed to its destination.
As the protesters chanted messages `YES TO FREEDOM OF SPEECH! NO TO CENSORSHIP IN FRANCE!`, `Sarkozy, Do Not Kill the Truth`, `Freedom of Expression is a Civil Right,` they attracted many people from the streets who took pictures, shot videos, and asked about the issue, while some shared their own views. Some of the curios Torontonians joined the protest after being informed about the injustice taking place in France. However, some were not very friendly and in two cases suspicious individuals verbally attacked and tried to provoke the protesters. Unsuccessful attempts of the provocateurs were silenced and reported to the police.
The protest was concluded at 5 pm, and despite the cold weather it was successful in spreading the message to the Canadian public for two hours.
The demonstration was attended and supported by the Azerbaijani and Turkish community organizations.
/
AzerTAc
/