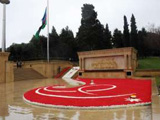 22nd anniversary of Bloody January tragedy was commemorated in a number of foreign countries. Azerbaijanis living in Lithuania remembered victims of 20 January tragedy in Ratusha square, Vilnius. The speakers provided information about the history of the tragedy.
*****
Azerbaijan`s Embassy in Libya organized series of commemorative events to mark the anniversary of Bloody January. The Embassy distributed news releases about the tragedy to the country`s Foreign Affairs and International Cooperation Ministry, diplomatic corps accredited to the country. The leading newspapers of Libya published articles on the 20 January events.
*****
Benelux Azerbaijanis Congress held a rally dedicated to the 22nd anniversary of January tragedy in Haaga. They distributed materials reflecting realities about the tragedy among the residents. The Congress also organized conference on Bloody January in Rotterdam.
***
*
*
Ankara hosted a seminar on 20 January tragedy. Turkish MP Sinan Ogan spoke of causes of the tragedy. The other speakers pointed out importance to raise world community`s awareness about the tragedy.
*****
Azerbaijani Sunday school in Tallinn hosted a commemorative event to mark 20 January events. The event was attended by Azerbaijan`s Ambassador to Estonia Tofig Zulfugarov, head of Estonia-Azerbaijan interparliamentary friendship group Eldar Afandiyev, chairman of Azerbaijani Culture Center N.Hajiyev, and representatives of Azerbaijani Diaspora organizations. The speakers recalled that terrible night and spoke of the results of 20 January tragedy. The attendees watched a film on Azerbaijan`s history, culture, modern development, as well as Armenia`s aggression against Azerbaijan. TVN TV Channel broadcasted a film on Azerbaijan and 20 January tragedy.
/
AzerTAc
/