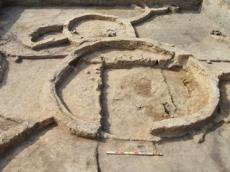 An ancient settlement of the South Caucasus, referring to the ancient Neolithic period, was discovered in Azerbaijani Tovuz region.
The excavations are being conducted by Azerbaijani and Japanese archaeologists. The settlement, discovered during excavations in the Haji Alemkhanli village, dates from the end of the seventh millennium BC.
The radiocarbon analysis of the found samples of the material culture of the Neolithic period show that the oldest settlement in the region was in this area. The first sedentary tribes lived here, the head of department at the Archaeology and Ethnography Institute of the National Academy of Sciences (ANAS) Farhad Guliyev said.
"Together with Azerbaijani colleagues, we wanted to examine the Neolithic monuments in the South Caucasus," Tokyo University professor Yoshio Nishi said. "As you see, we have achieved success."
Archaeological research started here bin 2012. According to the archaeologists, the global scientific community will be informed about the Neolithic settlement discovered in Azerbaijan. In the future, the specialists intend to appeal to UNESCO to include the finds into the World Heritage List of this organization.
/AzerTAc/