Moscow opens door to those opposition parties, who have been voyaging to the Russian capital during the past few months aiming at "restarting relations with Russia."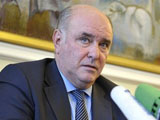 "We are prepared to receive those, who come not for fighting and trickery, but for making some changes," Gregory Karasin, Russian Deputy Minister told reporters in Geneva on Jan. 28..
Gregory Karasin answered the questions of Georgian journalists and quoted ex-speaker of Georgian parliament, current opposition party leader Nino Burjanadze, saying he quite agreed with her while assessing the Georgia-Russia August war in 2008.
"A while ago Nino Burjanadze made quite correct assessment of the August war. She said that when Saakashvili made a decision to wage war in summer 2008, I am quoting her "he intended to make Russia bend on its knees and to cause tension in relations with Russia, but Saakashvili lost the war and put the country in a tragic situation. This was the statement made by a Georgian politician and I can quote other opposition leaders thinking the same. When people come to find specific positive decision, I think it will be an irresponsible act to ignore them. We want to have open and pleasant relationship with Georgia," Karasin said.
/Georgian Times/