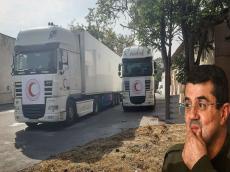 The series of adventures of the separatist regime continues in Garabagh. Armenians who started the hunger game a few weeks ago have started to understand that all the attempts are futile and pointless. Every day, the State Border checkpoint in Lachin sends unsuccessful gamblers back to Armenia. The spoken words are giving their results: either to live together under the flag of Azerbaijan, or to leave forever.
In fact, the reason that Armenians are leaving Garabagh is not related to any pressure from Azerbaijan. It would not be wrong to say that they were treated more favourably by Azerbaijan and received more concessions. Today, the reason for Armenian minority to leave Khankendi is the illegal and blurry actions of the separatist leaders and Arayik Harutyunyan, who calls himself the "president" of the so-called state, and complicates the situation. The Hunger Games was one of Harutyunyan's most unsuccessful plans. He believed that Khankendi was his most secure place, where he could carry out his fictitious plans. But the incurable tumour in his brain is the only reason that prevents him from understanding the realities.
The hunger game was held for several weeks in the Armenian minority living segment of Garabagh under the temporary control of Russian peacekeepers. False statements were made to the world that people are suffering from hunger, disease and disaster have occurred in the supposedly legal territory of Azerbaijan. But as the saying goes, lies have short legs. In a short time, social networks clearly demonstrated everything to the world that hunger in Garabagh is nonsense, but the Armenian minority lives a life full of fun and pleasure. Let them live. That's what we wanted, Arayik. What was the need to play so many games? Do not block your way, it is unnecessary to show the world something by blocking your own way. Because of you, the reputation of the 160-year-old ICRC has been ruined in Garabagh. What did the Red Crescent Society do to you?
Azerbaijan is already ready for humanitarian aid - the direction is Aghdam-Khankendi road. Now Arayik must either accept this offer or accept it again. Otherwise, this time, he should take heed not from Azerbaijan, but the Armenian society who will grind him in a mill instead of wheat. Of course, Arayik knows this, that's why he announced the solution to the bread problem the other day. Life is precious, why become victim for a false food problem though? It's not your job to pretend to be proud and invincible, Arayik. You should have accepted Baku's offer a long time ago.
By the way, it is not worth making statements about your three spoilt donkeys who went astray by trying to be rude to Azerbaijan's attributes. They will learn their lesson properly and be handed over to you again. Because you all really need to learn a proper lesson in Baku. You'd better get ready Arayik, it's your turn.