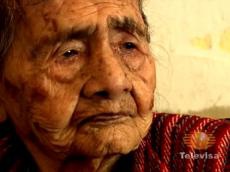 Feliz cumpleaños, Leandra Becerra Lumbreras.
The Mexican woman thought to be the oldest person in the world reportedly turned 127 on Sunday, according to the Metro.
Lumbreras says she was born on Aug. 31, 1887.
Her family said her secrets to longevity are eating chocolate, sleeping a lot and not getting married.
"She was always a woman who fought. She was still sewing and weaving until about two years ago,' granddaughter Miriam Alvear, 43, told El Horizonte, according to a translation by Metro.
But as the Telegraph reports, Lumbreras lost her birth certificate during a move 40 years ago.
According to El Horizonte, Lumbreras has 73 great-grandchildren and 55 great-great-grandchildren.
"Her parents were singers," Alvear said. "She loves to entertain her grandchildren with the old songs they taught her."

/Huffingtonpost/