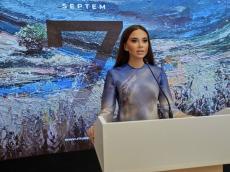 Baku Museum Center has showcased fantastic art works by talented artist Jamila Hajiyeva.
The exhibition "Septem" features around 40 vibrant paintings, including an art work dedicated to Shusha under the motto "Now we are free", Azernews reports.
Inspired by classical realism and impressionism, Jamila has created magnificent landscapes and still lifes that evoke a deep spiritual connection with nature.
Each painting is accompanied by a digital version created using artificial intelligence, which served as a symbiosis of human emotionality and the unique vision of artificial intelligence.
Jamila Hajiyeva has started her journey to the world of art while studying at Azerbaijan State Academy of Fine Arts and Florence Classical Arts Academy.
She is attracted to the work of the impressionists, imbued with the personal stories of the movement founders.
Jamila Hajiyeva has been involved in the art world for almost 10 years. Over this time, she has experimented with vibrant colors and the philosophy in her art pieces. Her series of art works called "Septem" is associated with the Latin world, which means seven - the artist's lucky number.
The art works immediately attracted the attention of art and nature lovers.