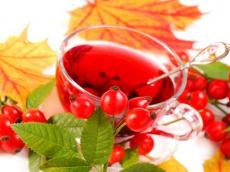 By Aynur Kerimova
Are you sick or have caught cold? Do you want to lose weight without medicine? If yes, just stop taking medicine and buy a box of dried dog rose from a nearby chemist's shop! It will definitely help you treat yourself.
Azerbaijani people have a rich and ancient tradition in the field of pharmacology. In the Middle Ages, physicians widely used medicinal plants to cure their patients.
The medicinal plants were used to treat numerous diseases. Now these forgotten medicinal plants are being broadly applied in modern medicine.
One of these myriad medicinal plants is the dog rose. In ancient times the dog rose was the symbol of proud, love, beauty and youthfulness.
Some 42 sorts of the dog rose grow in Azerbaijan in Lankaran, Masalli, Lerik, Nakhchivan, Sheki, Gadabey and Shamkir regions. Today you can find the dog rose even in chemist's shops in dried form.
The dog rose has countless benefits. The fruits of the dog rose are widely used as annealing, concentrate, syrup and jam for treatment of various disasters.
It is full of vitamins and minerals. The dog rose is rich with biologically active substances, C, A, K, P vitamins, pectin, micronutrients, and thanks to this feature the dog rose is able to defeat various diseases including those of liver and bile, kidney and urinary tracks.
Also, it is widely used when the immunity of the organism is weak. The dog rose is used to treat cardiovascular system and infection disasters.
The dog rose reduces the blood pressure, and shows bright results for treatment of atherosclerosis.
When you have caught cold, just a cup of dog rose tea will come to help you defeat the flu.
One of the main features of the dog rose is its ability to reduce the cholesterol in the blood and to prevent from the vascular problems and bleeding.
The dog rose normalizes the metabolism and treats oral and gum disasters. It strengthens the organism's resistance ability, increases intellectual ability, and strengthens the memory.
The dog rose calms the nervous system and defeats the tiredness, helps the ill people to defeat anemia and diabetes mellitus. It also protect us from caught and rheumatism.
Now let's prepare a cup of tasty and useful dog rose tea. We need 2 spoons of dried dog rose and 250 grams of boiled water. Put the dog rose into the teapot, add boiled water and wait for 10 minutes for its brewing. You can add few sugar or honey to make the dog rose tea a bit sweeter.
Dear women, you can also use the dog rose with love because it delays aging. Also, the dog rose tea is useful for losing weight in a healthy way. Take a liter of boiled water and add 3 spoons of dog rose to it. Then keep it for 12 hours in a dark place. Every day drink a cup of this tea 30-40 minutes before the meal time. After 2 weeks you will see the desirable results.
Pregnant women can also drink the dog rose tea for protecting their own and baby's immunity system from various viruses. Only one cup of tea is enough for them.
You have to remember that modern medicine is only a few hundred years old but traditional medicine dates back to millennia ago.