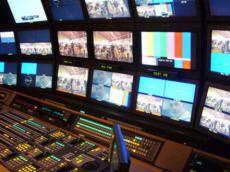 /AzerNews/
By Amina Nazarli
Turkic speaking states has decided to establish a joint Turkish channel which will unite all the Turkic speaking countries, Project Director of TURKPA Zamin Aliyev said at a meeting of Cooperation Council of Turkic speaking states on the social, cultural and humanitarian issues on December 2.

"The project plan is already ready," he stated.
The idea of establishing this channel was put forward by the Kazakhstan President Nursultan Nazarbayev in the fifth Summit of the Cooperation Council of Turkic-speaking States (CCTS), held in Bodrum, Turkey in June.
Aliyev said that after the initiative raising, a special working group was created to press ahead with it.
"At a meeting of the group, held in October, the sides came to the conclusion to establish the channel. Its structure will consist of a board of directors and editorial staff," Aliyev noted.
He also gave information about the status of the channel. "The programs will be broadcasted both in English and the languages of Turkic speaking states. As "Al Jazeera TV" and "Euronews", this channel will have an international status," the project director noted.
Aliyev cited that a test broadcast is underway and the channel will be launched officially in near future.
Addressing the meeting, Deputy of TURKPA, MP Sevinj Huseynova spoke about the role of the information interchange in rapprochement between nations in the modern world.
"Although, Turkish peoples are very similar in different terms, they do not have full information about one another. That is why it is necessary to provide them with more information, Huseynova noted.
A member of TURKPA Committee, Committee Chairman on Culture of the Parliament Nizami Jafarov believes that development of integration processes among the Turkic peoples is very important.
"Today the Turkish World is the only area, which is strengthening in political, economical, cultural and academic terms. TURKPA and other Turkish institutions, such as TURKSOY and CCTS have a big influence in the international arena," he highlighted
Talking about a common roots among Turkic speaking countries, Jafarov noted some shortcomings, which must be removed.
"The ties among Turkic speaking countries should not be limited," he said. "There is no single information and media space among Turkish countries. Creation of a single channel of Turkic-speaking countries is an important step in this direction."
TURKPA was established on November 21, 2008, according to anagreement signed by the heads of parliaments of Azerbaijan, Kazakhstan, Kyrgyzstan and Turkey in the "Dolmabakhche Saray" located in Istanbul city of Turkey.
In 2009, the first plenary session of TURKPA was held in Baku. The TURKPA Regulations, Articles of Secretariat, Baku Declaration, and Statement regarding the permanent accommodation of the Secretariat in Baku city were adopted at the plenary session.
The TURKPA chairmanship is annually handed over from one country to another by means of rotation in English alphabetical order.