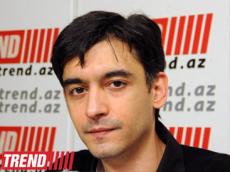 By Umid Niayesh - Trend:
Welcome to Iran, the country of contrasts. It is hard to believe but some senior clerics in Iran still insist on boycotting the Islamic Republic's State TV channels for broadcasting music. They believe the channels are violating Islamic rules.
According to official statistics, more than 70 percent of Tehran population are not satisfied with State channels and prefer to watch banned satellite stations.
It is also hard to believe that in post-revolutionary Iran, once a day enforcement officials break music instruments of traditional singers-Ashiqs- in Iranian Azerbaijani villages, arguing that playing music is against Islamic rules.
Today, after less than some three decades, Iran holds music festivals for Ashiqs and the winners are granted awards and medals. However showing music instruments on Iranian TV channels remains banned.
This is Iran, the country of the contrasts.
Iranian culture minister, Ali Jannai defends solo singing of women and says bans that were made in the first years of the Islamic Revolution are "ridiculous." The humor is that his father, 87-years old chairman of the Guardian Council, Ahmad Jannati is one of the famous leaders of the hardliners. They harshly criticize Ali Jannati, accusing him of showing tolerance toward insulting religious sanctities and for not being strict enough regarding religious principles.
While the father Jannati and his colleagues cannot be reconciled with the Internet and call it a "guilty tool," the son seriously defends lifting the official ban against social networks such as Facebook and Twitter.
The father and son symbolize the current political-cultural arena in Iran: the godfathers who control conservative appointive entities and the reformist sons who struggle in semi-elective entities under their heavy shadow.
While both conservatives and reformists agree on restoring Iran's collapsed economy, the cultural arena has become once again the frontline of the conflict. Even the Supreme Leader, Ayatollah Ali Khamanei, who tacitly supports President Hassan Rouhani`s foreign and economic policies, expressed concerns on cultural issues.
Actually the Rouhani`s administration is experiencing the third round of reformist-conservative conflicts in Iran. Earlier during the Ali Akbar Hashemi Rafsanjani (1989-1997) and Mohammad Khatami(1997-2005) presidencies, reformists` efforts lead to no significant or persistent development or evolution in cultural and social areas.
Rafsanjani even gave up the culture ministry to conservatives after the protest resignation of Mohammad Khatami from the ministry and mobilized his efforts on economic development.
The resigned minister took office as president in 1997 when he captured almost 70 percent of the votes, which was a huge political victory for reformists. But despite the massive public support, cultural entities remained almost unchanged when Khatami left the office.
Rouhani, who some analysts call a second Hashemi, has not yet taken significant steps on cultural issues, but there are also some signs that his government of "prudence and hope" maybe different from his predecessors.
Commenting on Khamenei's concerns about cultural issues, Rouhani said that it has been 35 years since the revolution in Iran, and yet there remain concerns about social and cultural issues.
Rouhani remarked that if pressure was effective for resolving the problem, "we would not be concerned about the cultural issues today."
He also said that "If we break the pens and shut the mouths, public trust will be deeply harmed," which was an unprecedented statement in the Islamic Republic.
However despite these epic words, Rouhani has failed so far to fulfill campaign promises to allow greater freedom of expression, as U.N. Secretary-General Ban Ki-moon said this week.
It is hard to forecast if Rouhani will be able to realize his slogans, or will return to the pragmatist spiritual father, Rafsanjani`s period giving up in the cultural-social arena and striving to resolve foreign policy and economic problems.
Yes, the country of contrasts, Iran is still suffering from a lack of a single satisfactory policy on cultural-social issues 35 years after Islamic revolution.