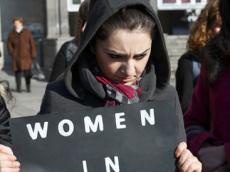 By AzerNews
Demographic and reproductive indicators prove that women's situation in Armenia has been deteriorating over the past 20 years.
Violence, abortion, infertility, and violations of labor rights in both public and private sectors are among Armenian women's major problems.
The International Women's Day has lost its meaning for Armenian women, who represent 52 percent of the country's total population.
Armenian women consider this day as an opportunity to readdress their problems. Recent statistical and social reports show that the fair sex in Armenia is not valued.
The rate of infertility is 16.8 percent, despite the fact that the figure of 15 percent is already a cause for concern, the World Health Organization reported.
The UN Population Fund reported that girls are born less than boys in Armenia. Due to abortion, 1,400 girls are not born in Armenia annually. Local experts have said selective abortion may lead to an increase in crime and migration.
One in three women in Armenia faces domestic violence, social researches show. About 6 out of 10 women are subjected to psychological violence, and 4 out of 5 women have been subjected to physical violence used sexual violence.
The unemployment rate among women remains high in Armenia. The percentage of female job-seekers is about 70 percent, official statistics showed on January 1, 2014.
The number of unemployed women is 41,300, while 59.2 percent of women have been without work for more than one year. Local experts believe that high unemployment rate is the number one problem for women in the Armenian labor market.
The unemployment rate in the country reached its high record of 18.64 percent in 2013, International Labour Organization's "Global Unemployment Trends 2014" report noted. The rate is the highest among the CIS and South Caucasus countries.